ABOUT OUR SERVICES
At Haugen Advertising and Graphics, we offer a wide variety of solutions for all your large format needs. For more information about the specific types of services that we offer, roll your mouse over the list at left.
If you have any questions about our services, or you would like to request a quote, please contact us today.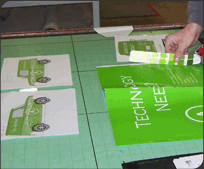 BUS & TRAIN DISPLAYS AND WRAPS
From small transit shuttles to full size busses and trains - we offer all products sold for transit and train advertising — from traditional framed products to complete wraps.


PERSONAL VEHICLE WRAPS
Do you want to customize your personal or company vehicle to stand out from the crowd? What ever your needs are we've got you covered. Short term or long term applications are available.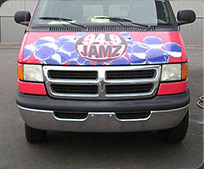 FLEET LETTERING & GRAPHICS
Enhance the overall branding of your business. By using graphics on your entire fleet you can increase familiarity and name recognition throughout the marketplace with your company. We can produce anything from letter to full color graphics for all of your vehicles.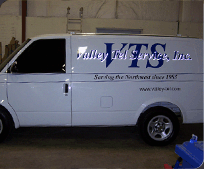 WINDOW GRAPHICS
Window graphics are a great way to announce discounts or promotions, or to prominently display your company logo. The material allows for visibility through the backside of the graphic. This application is similar in principle to a one way mirror; if you place the material on your store window, you will still be able to look out the window from the inside, but people outside will only see the graphics.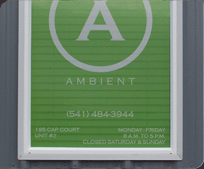 FLOOR & WALL GRAPHICS
We can provide both indoor and outdoor graphics for floors or walls. These displays are a great way to grab attention and announce specials or promotions. They can also be used as directional displays.
POINT OF PURCHASE DISPLAYS
Point of purchase displays are a great way to shout about special pricing or an upcoming event. We can help you grab the consumer's attention with large, full color displays and signage.
CUSTOM SIGNAGE
We can handle all your signage needs. From big or small, short term or long term we've got you covered. For questions, more information, or to request a custom quote - please contact us today.
BENCHES
Benches are a highly visible and effective form of outdoor advertising - also called "street furniture." We offer a highly aggresive (strong adhesive for long product life), extremely durable product that is perfect for advertising on transit benches.
LAMINATION & PROTECTIVE UV COATING
In order to protect our product and maintain the color and quality of the image for the duration of time the end product will be posted, we can apply either a UV Protective coating or lamination to increase the product's durability depending on the specific needs of your end product.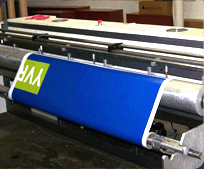 Clear Coat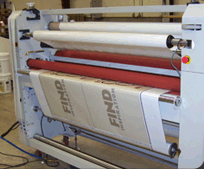 Laminate
TRIMMING
Our professional staff is trained to work with large format displays and cut to your exact size specifications, as well as doing precise custom cutting around images when needed for extensions or specialty displays.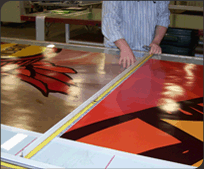 DISPLAY MOUNTING SERVICES
We can mount your finished displays to a large variety of materials such as Sintra, Gator, Fome-cor, Dibond, Komatex, Styrene, Chloroplast, and many more. Please contact us today for more information about size and quantity capabilities.